Weaselface rocks Detroit
Written by:
Toby S.
2013-09-06 03:43
I am soo fucking happy to have found this site & know that Weaselface is still slamming. I've had "Fuck You" for years, & always wondered about the fate of the band. I play in and around Detroit USA, and I've played the CD over the years for a lot of musicians here who loved the hell out of your sound. You guys are great, keep rockin it!
this site rocks!!!
Written by:
Rex
2008-04-10 20:18
Subscribe to Full Caliber's emailing list and instantly receive two Free Mp3 tracks of good hard Full Caliber rock and roll, just for joining! http://www.fullcaliber.com
fett
Written by:
Kubla
2007-07-11 17:58
Matt slammer din gamle tjänsteman......
Du e alldeles för.... rund för att spela deltidspundare
i videon Gimme a fix!
Passare snart e d Mårten Gås!

Fuck ASS
Written by:
Sleazy Roy
2007-05-18 00:16
You're fucking great man. När jag lyssna på skivan trodde jag fan att jag skulle få en orgasm. Tack för skivan Mat The Fucking Slammer. Ska göra ett starkt försök och supa dig under bordet nån gång.
Keep up the good fucking work.
Fan Website
Written by:
Little Weasel
2007-01-27 10:55
Check out the other website at www.weaselface.net !!! :-)

Written by:
the "Boot"
2006-09-25 08:56
Get your Rocks off!!!!!!!!! And punk "n"Roll.... Fuck it,
So Fuck it..
Written by:
The Weasel
2006-09-10 13:53
Killrmace deisel face no more glory days..
Kom för fan o lira...
Written by:
trollet
2006-09-10 13:50
Dags att komma ut o lira vore kul att se er:-) turne´till hösten!!??
Message from finland
Written by:
Billy the kid
2006-09-10 13:43
Hey There!!! i Bought "aces only"+"punk rock city" two for 6 euro!! great Price and fucking great music!!
Plattor
Written by:
Jonta
2006-09-10 13:36
Tjaba! Kommer ni att släppa alla gamla alster "remastrat"? tycker att samlingen "punks from hell" fick nytt Liv.. skulle vara kul om ni mastrade om dom gamla grejerna.l
Flash metal
Written by:
dave lee
2006-09-10 13:33
Punks from hell.. Fucking good sleaze/action rock.. fucking great!!!!!!!!!!
Written by:
the Hell- cat
2006-09-04 10:10
Tjaba! Kom och Lira i Helsingborg eller Danmark snart. vill gärna se er Live.gillar bnya plattan den är kanon! Har hört att ni har släppt en samling skall tjacka den så fort jag dycker på den....
Written by:
The "Ripper"
2006-09-04 10:06
Hello! there... i buy the "aces only" album!! 6 fucking euro good investment:-)
Written by:
Larsa
2006-08-31 08:58
Cool gästbok!! Hur ball som helst!!! punks from hell är hur bra som helst...
New Cool Guestbook
Written by:
Weaselface
2006-08-27 17:46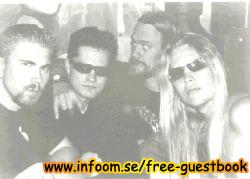 Written by:
typpö "Frankie the Damage"
20060310140124
just bought your cd from REA bascet in Finnish shop. Fucking great cd. It cost only 1,99€. Gimmie a Fix. www.frankiethedamage.cjb.net
Written by:
Abnorm
20060305233100
Internet-EP with Swedish punks ABNORM out now! Download from abnorm.se
Written by:
Lusen
20051025110829
Villka av era plattor finns på vinyl?
Written by:
ggr
20060728183519
Written by:
punkbruden
20060726102354
Jag tycker att Mat Slammer är skitsnygg!
Written by:
texen
20060720093013
Hallop Hej... Dags att plocka in Pat the rat igen! Världen Coolaste super trummis!!!!
Written by:
sick fuck
20060711083920
Happy In hell.. maybe i Am??
Written by:
Zak
20060706073600
Har Alla Plattor utom punk rock city. Ni Är Tamefan Bäst... "punks from hell" är Bästa Plattan Mer sånt:-)
Written by:
zank
20060703124010
Written by:
Gurra
20060630125035
Rock N Roll på er alla Dirty Rockers And Punks out there...
Written by:
Fanny
20060630084043
Hej! finns det Något Live Materiel Med Er?//Fanny
Written by:
guzz
20060628123101
Tjaba! gillar eran motörhead Låt
Written by:
Keega
20060628102949
Har Försökt att beställa punks from hell men. icke sa nicke den verkar vara slut i butik kommer det någon nypress på denna? keega
Written by:
trollet
20060628102639
Äntligen!! Sommar.. glöm inte bira i parken..
Written by:
The Punk Rocker
20060627095513
Hallå! punks from Hell.. är Asbra!! skall nu tjacka era övriga plattor:-)
Written by:
Weaselface
20060625234812
... and then go buy the CD
Written by:
Weaselface
20060625234746
Updated the MP3 section. Get em for free you slackers...
Written by:
karin
20060625160105
Written by:
Nyllet
20060620091226
Var ska ni spela i sommar? kommer ni mot göteborg malmö? iså fall när?
Written by:
Håkan johnsson
20060620083728
Måste bara fråga.. är det en före detta telecaster som matt slammer har Mördat Coolt!! Gillar när guran är väl nyttjad p.s "punks from hell" är eran bästa platta......Håkan
Written by:
Emma
20060619173018
You guys rock! absolutely 100% pure death punk. HELL YEAH, mää rakastan teitä!
Written by:
Kenta
20060619072025
Tja.. kan ni inte göra en kiss cover? Kanon om ni gör "rocket ride"...//Kenta
Written by:
cp-sven
20060613114314
more punk rock too the people..
Written by:
Fuck the world
20060612091426
We Have the albums where is the shows???? comon and play!!??!! see you on tour in the summer...
Written by:
REED THE bUTCHER
20060609080105
HELLO! gRABBAR HAR TJACKAT ERAN NY PLATTA PUNKS FROM HELL.. HELT JÄVLA SUPER SER FRAM I MOT EN lIVE PLATTA MED ER:-)
Written by:
sleazy..
20060606104828
where is "pat the fucking rat"?.. the best drummer ever...
Written by:
Punkrock ola
20060605135027
Kom till Luleå! och sup!! och spana på Brudar. och Lira Med oss vi heter "Dirt" och kommer från Luleå och Lirar på porsön den 17-juni.(Klockan 22-00) "Long Live Punk"
Written by:
Calle
20060605134011
fan... ni ni är ju sjuka!!! villka jävla texter Bra Musik men villka texter!? Hur mår ni igentligen?? P.S Punks from hell är Kanon..
Written by:
punkbruden
20060602134152
Spela i stockholm nu då! .. annars får ni sniglar i ögonen!
Written by:
killer Dave
20060529102829
Hi guys! Nice cover on "punks from Hell"
Written by:
rock&roll bitch
20060525090121
hey.... more rock please..
Written by:
Nobie Wes from Cut Lips www.cutlipsonline.com
20060512223317
Hey fuckers! We fans want Pat "the Rat" back in the band. You fuckin´got that!? Without him you´re a bunch of fuckin´loosers! Hehe, peace brothers..
Written by:
Pat the Rat---Patrik "Skåne" Trummisen
20060511193900
TjaBBa, Jimpa... Har du fått e-mail om nya bilderna om mig o min text? Vore coolt o najs... Hälsa kvinns o höns... Gold Rockers
Written by:
antero..
20060406084611
Come and visit us in finland. i love your music
Written by:
jack the ripper
20060322080758
hepp!... har hittat eran coola sida! efter "Lite letande" kör hårt! finns era plattor på vinyl?